Featured Item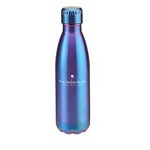 17 oz. Hypnotic Cascade Bottle
Neo-chrome finish. Stainless steel outer and inner walls. Copper-lined. Double-wall vacuum insulated. Keeps drinks hot or cold for hours (keeps cold up to 18 hours and keeps hot for up to 8 hours). Sc...

Chances are, if you can find it on the internet, we can offer it for a more affordable price!
Contact us for your free Estimate!!
Jan Sullivan
Custom Gift Creations

760.942.6718p / CustomGift@Cox.net
Certified D.B.E. #32404 by the California Unified Certification Program
Signature Showrooms